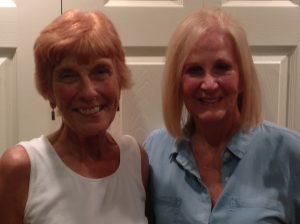 BOOK SALE 2019: OCT 31 – NOV 3
SEE UPCOMING EVENTS, UNDER MEETINGS/EVENTS.
Barbara Marder and Laney Forge,
Co-Presidents for 2019-20
NOVEMBER LETTER FROM THE CO-PRESIDENTS
By Barbara Marder and Laney Forge
Fall Greetings to All—
When you receive your November Newsletter we will be in the midst of our annual Book Sale. Hopefully you will all continue to support the Branch efforts through the sale itself as you have the collections and final preparations, including sorting all those boxes and preparing the book display. Please don't forget a large contingent of helpers is needed on Sunday afternoon to wrap up the sale, pack up any unsold books to take to Wonder Books in Frederick, break down the empty boxes, fold the tables, etc.
Due to late and unexpected cancellation by our featured speaker, our October Branch meeting was unfortunately cancelled. Our next Branch meeting with business meeting and speaker will be held the second Monday in March. At that time there will be a proposal and discussion of a motion to alter the distribution of our scholarship monies. Prior to that formal discussion, the proposed motion and its background will be presented in the Newsletter so members may come to the meeting with general information.
Shortly after Thanksgiving, we will host STEM GIRLS COUNT, our STEM day for 4th grade girls, held in conjunction with AACC and AA County Public Schools. Again, there will be lots of opportunities for member participation for this half-day event. In December we will have our annual Holiday Luncheon. Our major legislative activities begin in January.
Barbara will be attending the AAUW Maryland's Fall Meeting with presidents from across Maryland on October 26. That report will come in the December newsletter.
See you all at the Book Sale.

AAUW Anne Arundel County 2019-2020 Brochure
For information about the branch's Special Interest Groups, download the Branch Brochure above.

In accordance with its bylaws: AAUW is not affiliated with and does not support any other non-profit organizations; AAUW does not support the campaigns of any candidates for public office; but AAUW does support public policy initiatives related to education and equity for women and families that have been approved by the bi-annual voting of the AAUW members.