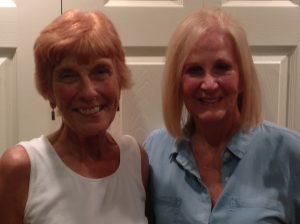 BOOK SALE 2019: OCT 31 – NOV 3
SEE UPCOMING EVENTS, UNDER MEETINGS/EVENTS.
Barbara Marder and Laney Forge,
Co-Presidents for 2019-20
OCTOBER LETTER FROM THE CO-PRESIDENTS
By Barbara Marder and Laney Forge
Fall greetings to All:
School has started; leaves are turning; AAUW of Anne Arundel County is busy with exciting, important, and fun activities. Many thanks to Debby Chessin and her membership committee for a terrific start to the year with our delightful Welcome Luncheon on September 21. It was a fine time renewing old friendships, making new ones, and sharing goals for the year. Additionally, we proved busy, active women can also be fine cooks as we feasted on a plethora of tasty dishes.
Thanks also to the Membership Committee for preparing the branch brochure in both print and electronic editions. By being online, the brochure can be updated regularly as new events are included. Thanks to program chairs Miriam Morrow and Gretchen Miller for planning meetings and activities we can anticipate, and to Roxann King and Colleen Kane for updating our branch website with all these coming activities. Debby has added a new member addendum to our online member directory and will have a print edition shortly. And last of the special acknowledgements: Welcome to Heather Bagnall as our membership co-chair.
Before October has ended, we will be deep in the throes of the annual Book Sale, our major fund-raising project for the year. More than any other branch activity, the Book Sale requires the active support of our entire membership. From packing, unpacking, cashiering or helping a community member find a book of choice, there is a job for everyone. PS—it's also the time our members get truly acquainted with one another in the two week period we unload and sell the books we have collected in work groups of three and four members since July. It's work, sure, but it's always lots of fun.
Waiting in the wings to follow the Book Sale are the STEM GIRLS COUNT day in early December, the upcoming legislative sessions locally and nationally, and the AAUW Maryland annual convention we will host in March.
Be sure to check our branch website https://annearundelcounty-md.aauw.net as well as the AAUW national website. We appreciate all the wonderful work being done.
See you at an activity or social hour soon.

AAUW Anne Arundel County 2019-2020 Brochure
For information about the branch's Special Interest Groups, download the Branch Brochure above.

In accordance with its bylaws: AAUW is not affiliated with and does not support any other non-profit organizations; AAUW does not support the campaigns of any candidates for public office; but AAUW does support public policy initiatives related to education and equity for women and families that have been approved by the bi-annual voting of the AAUW members.