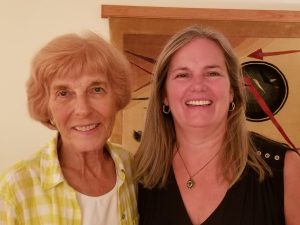 BOOK SALE COLLECTIONS HAVE BEGUN. SEE UPCOMING EVENTS, UNDER MEETINGS/EVENTS.
Barbara Marder and Michelle Hauf,
Co-Presidents for 2018-19
MAY  LETTER FROM THE CO-PRESIDENTS
By Laney Forge and Michele Brillon Hauf
Our 2017-18 year in Anne Arundel's AAUW Branch has been productive and so much fun!
Our fall book sale, led by Stacey Hilder and Linda King was beyond successful…hours of hard work and time paid off by raising the money we are giving to our scholarship winners. Wow…a long process, but so worth it!! Thank you to everyone who gave their time and effort. The results this year were amazing!! These scholarships will be awarded at our May luncheon this Saturday May 5th. These young women are very impressive…and we hope you'll be there to meet them.
Niv Roy Ghatak, chairman of our membership committee, has worked hard to make our Branch the most successful in the state in recruiting new members. Congratulations! Niv, you've done an amazing job of organizing these efforts and welcoming our new members. Well done membership committee!! And cheers to our new members…we are very glad you have joined us!
In December, Michele Hauf chaired our Science Technology Engineering and Math (STEM) event, in conjunction with Anne Arundel Community College, for 80 local fourth grade girls. An impressive day of introducing STEM careers to our young girls by successful women in science careers. Thanks to Michele for her vision and leadership and to Gail Viamonte for her expertise and assistance.
Throughout the year we've had a number of informative and inspiring speakers at our general meetings. A big thank you to Robin Mayberry-Hembree for her successful efforts in finding women in our community to talk to us about the local ongoing efforts in lobbying for women's rights. Roxann King and Vera Torrence represented us at important legislative hearings and we appreciate that. We joined our national, state and Branch leaders in participating in marches for women's' issues, both in Washington DC and Annapolis. What exciting events they were!
We went on a field trip together to learn about local environmental research (thanks to Christina Simkanin) and met for a number of Cocktails and Conversations at local restaurants. Fun times!! Thank you to our Program Committee for planning such worthwhile and happy times together. Cathy Crowley, Mary McGrath and Robin have led these events and we are so grateful for their time and effort.
It is wonderful to be part of an organization that brings so much meaning and joy into our lives. We hope to see you at our final May luncheon to celebrate our successes and our friendships. Bring a friend who would be interested in joining a lively group of outstanding women!

2018-2019 AAUW Anne Arundel County Branch brochure
For information about the branch's Special Interest Groups, download the Branch Brochure above.