Applications for educational awards are now available under SCHOLARSHIPS.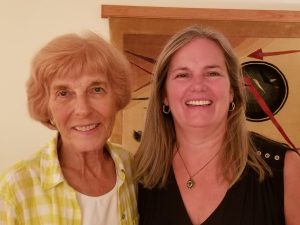 SEE UPCOMING EVENTS, UNDER MEETINGS/EVENTS.
Barbara Marder and Michelle Hauf,
Co-Presidents for 2018-19
MARCH  LETTER FROM THE CO-PRESIDENTS
By Barbara Marder and Michele Brillon Hauf
As we end this last official month of winter, we can all reflect on the successful activities of the last two months and look forward to our spring adventures. In January members enjoyed a delightful C & C at Cooper's Hawk in Annapolis, hosted by Mary McGrath and Colleen Kane.
This social was followed in mid-February by another C & C at Blackwell Barn and Lodge in Gambrills, hosted by Dianne Dezio and Marilyn Weeks. Always on the lookout for new places to gather and greet, Membership Chair Robin Mayberry-Hembree is seeking hosts and location
ideas for our next few gatherings.
And the list of activities continues…… Field trips related to our Branch activity are continued in
late February with a trip to see the Maryland State Legislature in action. Reservations and plans for this activity have been publicized via all-member emails. The activity itself will occur between this writing and the Branch receiving the current newsletter.
As the legislative session continues, members are asked to monitor committee hearings as well as full Senate and House of Delegate votes on issues supported by AAUW Maryland and/or MLAW, Maryland Legislative Agenda for Women, of which our Branch is a member. All are encouraged to send email support or to testify at hearings.
Our Book Sale chairs, Linda King and Stacey Hilder, are announcing plans to encourage more member participation in off-season book collection activities. Note the article in the March newsletter.
The Nominating Committee is preparing a slate of officers to be elected at our April meeting and installed at the May luncheon. Any member who would like to be involved or is considering taking an office is encouraged to contact Gail Viamonte to discuss the position and
options for participation.
Many thanks are due Debby Chessin and the Membership Committee for preparing the new and up-to-date member directory. It is available online; print copies will be available at all meetings for $1.00 each to offset the cost of duplication.
Check articles in the March newsletter for information about the MD State Convention to be held in April at Wisp Resort in Garrett County.
Consider taking the Online Start Smart course publicized in the Marylander and on the national website.
Finally let's give a big thanks to Mary McGrath for serving as our interim Newsletter Editor. We expect to have a new permanent editor within the month.


AAUW Anne Arundel County 2018-2019 trifold brochure
For information about the branch's Special Interest Groups, download the Branch Brochure above.