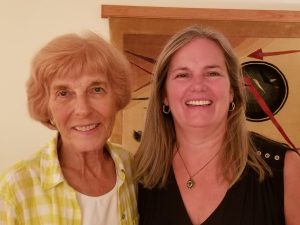 BOOK SALE NOVEMBER 8 – 11.
LAST BOOK SALE COLLECTION OCTOBER 20. SEE UPCOMING EVENTS, UNDER MEETINGS/EVENTS.
Barbara Marder and Michelle Hauf,
Co-Presidents for 2018-19
OCTOBER  LETTER FROM THE CO-PRESIDENTS
By Barbara Marder and Michele Brillon Hauf
And, AWAY we go! With the Fall Membership Welcome Luncheon a warm and wonderful memory, the Anne Arundel County Chapter of AAUW has officially launched the 2018-19 activity year. Many thanks to Debbie Chessin, Ashley Schaefer, and their membership committee for giving the year a great start. It was a superb gathering—lots of meeting and greeting, wonderful food, lovely decorations, and some fun raffle items to boot. Special thanks to Niv Ghatak and Diane Larmore for preparing the slide show illustrating our many chapter activities and the women who chair each area. We especially welcome our new members and guests and look forward to seeing them involved in our projects.
While book collection has been active since July and plans have been forming for our support of this fall's local elections and legislation for the 2019 legislative session, the activity moves into full swing in October and early November. Then we can party a bit through the holiday season and come back to 'chores' for the legislative session and scholarship awarding.
Articles throughout the Newsletter will inform members of the Book Sale activity, the Candidate Forums we will host jointly with the League of Women Voters, and our first offering of the Start Smart Course at St. John's College, as well as the many fun and enlightenment activities for all members and guests. Be sure to sign up where you can help, then come to party, play, or discuss on other occasions.
Hope to see many of you at the first fall C & C October 1 at Park Tavern in Severna Park and all of you at one of the forums or the book sale site in Pasadena later in the month.

AAUW Anne Arundel County 2018-2019 trifold brochure
For information about the branch's Special Interest Groups, download the Branch Brochure above.