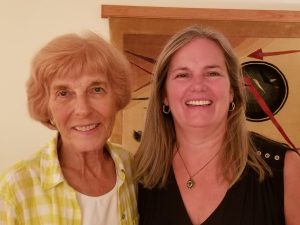 BOOK SALE NOVEMBER 8 – 11.
SEE UPCOMING EVENTS, UNDER MEETINGS/EVENTS.
Barbara Marder and Michelle Hauf,
Co-Presidents for 2018-19
NOVEMBER  LETTER FROM THE CO-PRESIDENTS
By Barbara Marder and Michele Brillon Hauf
At our October meeting, we enjoyed learning about the Legacy Leadership Program held annually at the University of Maryland, College Park, providing training for retired seniors to participate in the state legislative process through direct work in a senator or delegate's office. Thanks to Vera Torrence and the Program Committee for bringing Wes Queen, program director, to speak to us, explaining the program and encouraging members to consider participation. Vera remains our local resource on this program as she completed the program and participated in a state delegate's office.
The news for this month is our BOOK SALE! All members, friends, teen and older children, significant others, etc., can help us make this, our one big fundraiser, another huge success. An article from the Book Sale chairs and your reminder emails provide the details, but it is participation and verbal publicity that make the sale a winner. The books are ready to move to the sale site; your help is needed to sort and display our treasures from Friday afternoon, November 2, through our Wednesday night Members Party. Then more help is needed staffing the site during the sale and clearing it on the final day, Sunday, Nov. 11th. Not only does the sale support our scholarships, our charity donations, and a small portion of our operating expenses, it provides the number one opportunity for our members to meet and greet one another in an informal work setting. Come on out and make new friends while you provide community service.
Rounding out our post-Book Sale activities for 2018, plan to attend the C & C just after the sale and the Holiday Luncheon on December 8th (details below)
See you all in Pasadena with our BOOKS!

AAUW Anne Arundel County 2018-2019 trifold brochure
For information about the branch's Special Interest Groups, download the Branch Brochure above.