Applications for educational awards are now available under SCHOLARSHIPS.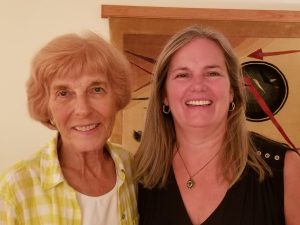 SEE UPCOMING EVENTS, UNDER MEETINGS/EVENTS.
Barbara Marder and Michelle Hauf,
Co-Presidents for 2018-19
DECEMBER  LETTER FROM THE CO-PRESIDENTS
By Barbara Marder and Michele Brillon Hauf
This year's highly successful Book Sale is a wrap. Our gross sales exceeded any former year; our net will be a bonus for the scholarship funds this coming spring. We all owe many thanks to Book Sale chairs Stacey Hilder and Linda King for their endless hours of devoted work and excellent leadership. Thanks to all the many, many members who contributed from estate sales in the spring through the 4th of July parade, collections in sun and rain, sorting and packing for four months, unpacking and stacking, helping customers during the sale days, and finally making this year's final clean-up the fastest, most efficient ever. Of course, we also owe bottom line thanks to EZStorage on Ritchie Highway and Philip Baum of Fedder Mgmt. in Pasadena for their donation of space for our books, as well as, to Lucia St. Clair Robson and Jeanne Hawn who sacrificed garage space for the duration, to Michele Hauf who stored estate sale books for several months, and to Maggie Cullman who graciously accepted overflow storage in her garage. The book business will now take a well-deserved rest for a few months….though, anyone hearing of a great estate sale willing to donate unsold books can let Stacey or Linda know. Another year will bring another book sale.
As we rest from our Thanksgiving feasts and begin the holiday season, plan to spend a few hours with the branch for our annual holiday luncheon on December 8th and/or one of the interest groups holding a meeting this month. January will bring major prep for the legislative sessions both in Annapolis and D.C. Stay tuned for information on the bills AAUW and MLAW are supporting and look for ways to help the cause.
Happy Holidays to all; we look forward to an exciting 2019!!

AAUW Anne Arundel County 2018-2019 trifold brochure
For information about the branch's Special Interest Groups, download the Branch Brochure above.