USED BOOK COLLECTIONS
Book sale collections have begun, in preparation for our used book sale in early November. Our collections for this year run from 10 a.m. to 1 p.m. on the following Saturdays: July 21, Aug 18, Sept 8 and 29, Oct 20. Collections will be held again in three locations:
Bank of America, Severna Park, at Jumpers Hole Rd and Benfield Rd
YMCA of Greater Annapolis, Arnold, on Ritchie Hwy
St. Philip's Episcopal Church, Annapolis, at Bestgate Rd and Medical Pkwy
Click here for our book collections flyer.
COCKTAIL AND CONVOS (C&C)
Our next Cocktails and Conversations (C&C) is Monday, April 30th from 4-7 p.m. at Eastport Yacht Club, 317 First St., Annapolis, hosted by Connie Schuchard. RSVP to Connie at ccschuch@gmail.com or 856-217-6518. Come one, come all, and bring a friend!
Non-members cannot park in the club lot, but there is parking on the street and in the lot directly across the street from the club. Contact Connie if you need closer access. Also, non-members should plan to pay in cash. Note that the club has some of the best views in Annapolis.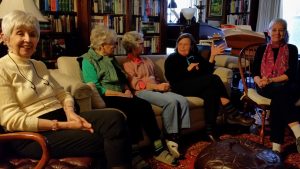 GREAT DECISIONS GROUP
Facilitator: Terry Sayler, 410-757-2446, saylerterry2@gmail.com.  The Great Decisions group  meets monthly the second Friday of the month at 9:45 a.m. to discuss current foreign policy issues.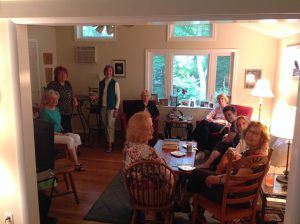 MORNING BOOK CLUB
Facilitator: Mary Wittner, 410-353-2172, mwittner@comcast.net.   The morning book group meets monthly the first Wednesday of the month at 10:30am.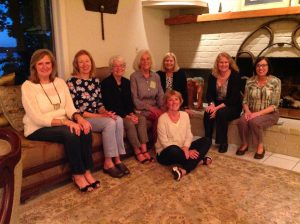 EVENING BOOK CLUB
Facilitator: Stacey Hilder, 410-647-7041, stacey861@verizon.net.  The evening book group meets monthly the first Wednesday of the month at 7:00 pm.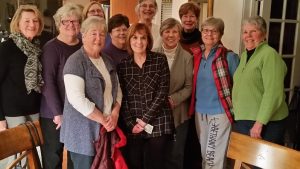 LADIES BRIDGE
Facilitator: Mary Ellen Gick, 410-544-5434, megick23@verizon.net. Ladies' Bridge meets the first and third Monday of each month  at 7:00 PM.

SATURDAY NIGHT COUPLES' BRIDGE
Facilitator: Barb Novak,  410-224-2528, barbnovak1@comcast.net.  Couples' Bridge meets the second Saturday of each month at 6:30 PM.

MONTHLY MEETINGS    See "Meeting Times" for monthly details.