COCKTAIL AND CONVOS (C&C)
Our next Cocktails and Conversations (C&C) is Monday, March 18, 2019, 3:30-6:30 p.m. at Brio's Tuscan Grill in Annapolis Towne Centre, 305 Sail Place, Annapolis, MD. Meet us at their beautiful bar area. Hostess: Robin Hembree. New members, old members and friends of members are all welcome!
GREAT DECISIONS
Great Decisions will meet Friday, March 8, at 9:45 AM. The topic is Decoding U.S.-China Trade. The link below provides lots of details. If you are interested in joining the group, please contact Terry Sayler, 410-757-2446 or saylerterry2@gmail.com for more information.
https://www.fpa.org/great_decisions/index.cfm?act=topic_detail&topic_id=78.
SPRING LUNCHEON
Saturday, April 27th, is the date for our AAUW Spring Luncheon at Chartwell Country Club, in Severna Park, MD, 21146, in the Main Ball Room. More
details will follow.
BRANCH MEETINGS, MONDAY, MARCH 11 & APRIL 8
We will meet at Woods Memorial Presbyterian Church, 613 Baltimore and
Annapolis Blvd, Severna Park, MD at 7 p.m. in the Founders Room.  The agenda includes committee updates and a welcome to the new members of our Branch. Our guest speaker will be Kate Whitman, a chemical engineering graduate from The University of Pennsylvania. Kate will speak about how to make a proper cup of tea and its place historically in our political world. All members who are planning to attend should bring your favorite tea cup and saucer. Be ready to learn about worldly teas and the chemistry associated with it. Refreshments will be served at tea time.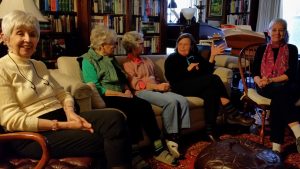 GREAT DECISIONS GROUP
Facilitator: Terry Sayler, 410-757-2446, saylerterry2@gmail.com.  The Great Decisions group  meets monthly the second Friday of the month at 9:45 a.m. to discuss current foreign policy issues.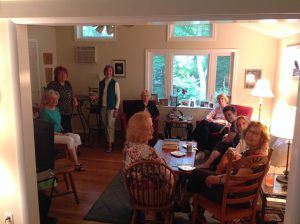 MORNING BOOK CLUB
Facilitator: Mary Wittner, 410-353-2172, mwittner@comcast.net.   The morning book group meets monthly the first Wednesday of the month at 10:30am.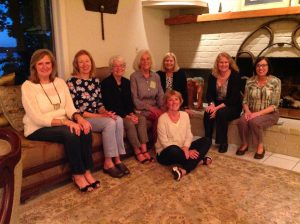 EVENING BOOK CLUB
Facilitator: Stacey Hilder, 410-647-7041, stacey861@verizon.net.  The evening book group meets monthly the first Wednesday of the month at 7:00 pm.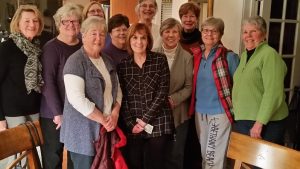 LADIES BRIDGE
Facilitator: Mary Ellen Gick, 410-544-5434, megick23@verizon.net. Ladies' Bridge meets the first and third Monday of each month  at 7:00 PM.

SATURDAY NIGHT COUPLES' BRIDGE
Facilitator: Barb Novak,  410-224-2528, barbnovak1@comcast.net.  Couples' Bridge meets the second Saturday of each month at 6:30 PM.

MONTHLY MEETINGS    See "Meeting Times" for monthly details.