COCKTAILS & CONVERSATIONS
Join us for a post-Book-Sale C&C social at Latitude 38, 12 Dock Street, Annapolis, MD.  Monday, November 11, 4-7pm.
BOARD MEETING
Next meeting will be at home of Miriam Morrow. November 14,  7pm.
PUBLIC POLICY OUTING
Visit the National Portrait Gallery exhibit "Votes for Women: A Portrait of Persistence", followed by lunch in DC.  RSVP to Roxann or Joan.  Depart 10am. Saturday, November 16, 2019
STEM GIRLS COUNT! CONFERENCE
We partner again this year with Anne Arundel Community College and Anne Arundel County Public Schools to put on a day of interesting activities for fourth grade girls and their parents. Saturday, December 7, 2019.
HOLIDAY LUNCHEON 
We gather in December to enjoy a Holiday Luncheon together after a brief business meeting. This year we will go to Brio Tuscan Grill; 305 Sail Place in Annapolis Town Center.  Check back closer to event date for rsvp details.  Saturday, December 14, 2019, 11am – 2pm.
PUBLIC POLICY OUTING
Visit the Library of Congress exhibit "Shall Not Be Denied: Women Fight for the Vote", followed by lunch in DC.  Depart 10am.  Saturday, January 11, 2019.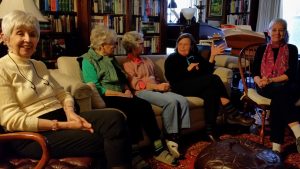 GREAT DECISIONS GROUP
Facilitator: Terry Sayler, 410-757-2446, saylerterry2@gmail.com.  The Great Decisions group  meets monthly the second Friday of the month at 9:45 a.m. to discuss current foreign policy issues.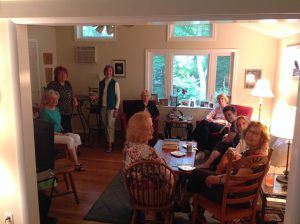 MORNING BOOK CLUB
Facilitator: Mary Wittner, 410-353-2172, mwittner@comcast.net.   The morning book group meets monthly the first Wednesday of the month at 10:30am.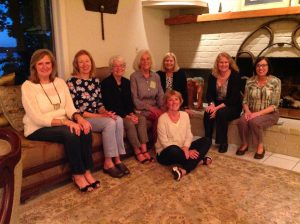 EVENING BOOK CLUB
Facilitator: Stacey Hilder, 410-647-7041, stacey861@verizon.net.  The evening book group meets monthly the first Wednesday of the month at 7:00 pm.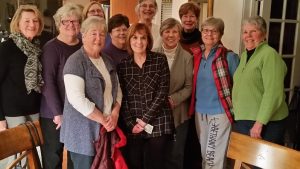 LADIES BRIDGE
Facilitator: Mary Ellen Gick, 410-544-5434, megick23@verizon.net. Ladies' Bridge meets the first and third Monday of each month  at 7:00 PM.

SATURDAY NIGHT COUPLES' BRIDGE
Facilitator: Barb Novak,  410-224-2528, barbnovak1@comcast.net.  Couples' Bridge meets the second Saturday of each month at 6:30 PM.

MONTHLY MEETINGS    See "Meeting Times" for monthly details.