COCKTAIL AND CONVOS (C&C)
Our next Cocktails and Conversations (C&C) is Monday, April 30th from 4-7 p.m. at Eastport Yacht Club, 317 First St., Annapolis, hosted by Connie Schuchard. RSVP to Connie at ccschuch@gmail.com or 856-217-6518. Come one, come all, and bring a friend!
Non-members cannot park in the club lot, but there is parking on the street and in the lot directly across the street from the club. Contact Connie if you need closer access. Also, non-members should plan to pay in cash. Note that the club has some of the best views in Annapolis.
SPRING LUNCHEON – OUR FINAL BRANCH MEETING of the year
The Annual Spring Luncheon will be held on Saturday May 5th at Chartwell Golf and Country Club, 11 am to 2 pm. The Spring Luncheon is a wonderful time for members to connect in a beautiful setting and to enjoy an interesting program. Guests and prospective members are welcome. Make your reservations using the attached flyer and send your check to Mary McGrath no later than May 1. Our guests will be Debbie Levy and Mary Hartnett. Debbie is the author of I Dissent: Ruth Bader Ginsberg Makes Her Mark. Mary is co-author, with Justice Ginsberg, of My Own Words and is also the Justice's authorized biographer. They will speak about their books and the challenges and delights of writing about Justice Ginsberg. They'll share some little known anecdotes, big- picture issues and how their two bestselling books, one for adults and the other for children, came about. We look forward to seeing you on May 5th!
Luncheon Registration Form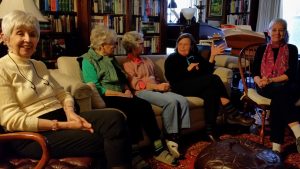 GREAT DECISIONS GROUP
Facilitator: Terry Sayler, 410-757-2446, saylerterry2@gmail.com.  The Great Decisions group  meets monthly the second Friday of the month at 9:45 a.m. to discuss current foreign policy issues.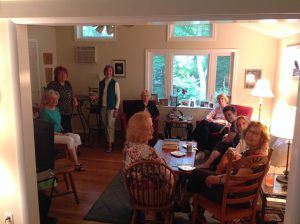 MORNING BOOK CLUB
Facilitator: Mary Wittner, 410-353-2172, mwittner@comcast.net.   The morning book group meets monthly the first Wednesday of the month at 10:30am.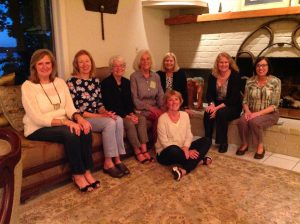 EVENING BOOK CLUB
Facilitator: Stacey Hilder, 410-647-7041, stacey861@verizon.net.  The evening book group meets monthly the first Wednesday of the month at 7:00 pm.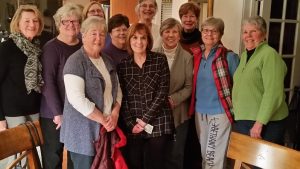 LADIES BRIDGE
Facilitator: Mary Ellen Gick, 410-544-5434, megick23@verizon.net. Ladies' Bridge meets the first and third Monday of each month  at 7:00 PM.

SATURDAY NIGHT COUPLES' BRIDGE
Facilitator: Barb Novak,  410-224-2528, barbnovak1@comcast.net.  Couples' Bridge meets the second Saturday of each month at 6:30 PM.

MONTHLY MEETINGS    See "Meeting Times" for monthly details.