COCKTAIL AND CONVOS (C&C)
Our next Cocktails and Conversations (C&C) is February 26th, 2018 at Lures Bar and Grill 1397 Generals Hwy, Crownsville, MD 21032. Happy Hour is from 4:00pm-7pm.  Please contact Vera Torrence, if you have questions: vtorrence@aacc.edu. Come one, come all, and bring a friend!
BRANCH MEETING
Our February AAUW Branch Meeting is scheduled for Monday, February 12, 2018, 7pm. – 9pm at Woods Memorial Church in Severna Park . Wesley (Wes) Queen, Director of the Legacy Leadership Institute On Public Policy Programs at University of Maryland will introduce us to the Legacy Progrm. Erin Prangley, AAUW Maryland Vice President for Public Policy, will discuss the bills being supported by AAUW and the strategies being used during this year's national and Maryland legislative sessions.

Event Planned: Saturday March 10, 2018.
Join us for a tour of the Smithsonian Environmental Research Center (SERC) on Saturday March 10, 2018.  SERC is located at 647 Contees Wharf Road, Edgewater, MD 21037.  We will tour the laboratory and site facilities from 10-11am and listen to a lecture about the science of climate change by SERC scientist Dr. Bert Drake from 11-12:15pm.  After the lecture, we will have lunch around 1pm at Glory Days Grill, 3 Lee Airport Drive, Edgewater, MD 21037.
** Prior to the tour, we will meet at the Glory Days Grill parking lot @ 9:15am, and carpool from there to SERC.  To sign up for this tour contact Mary McGrath:  text or call (410)570-1279 or email at mary@bugeye.net.
---
BRANCH INTEREST GROUPS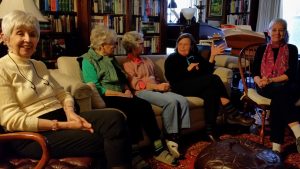 GREAT DECISIONS GROUP
Facilitator: Terry Sayler, 410-757-2446, saylerterry2@gmail.com.  The Great Decisions group  meets monthly the second Friday of the month at 9:45 a.m. to discuss current foreign policy issues.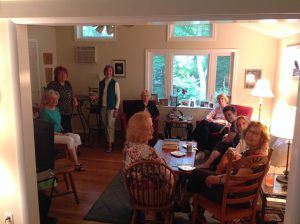 MORNING BOOK CLUB
Facilitator: Mary Wittner, 410-353-2172, mwittner@comcast.net.   The morning book group meets monthly the first Wednesday of the month at 10:30am.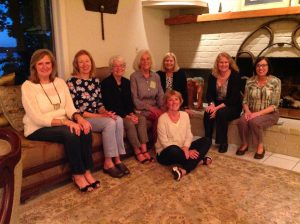 EVENING BOOK CLUB
Facilitator: Stacey Hilder, 410-647-7041, stacey861@verizon.net.  The evening book group meets monthly the first Wednesday of the month at 7:00 pm.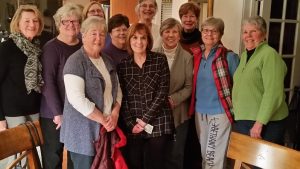 LADIES BRIDGE
Facilitator: Mary Ellen Gick, 410-544-5434, megick23@verizon.net. Ladies' Bridge meets the first and third Monday of each month  at 7:00 PM.

SATURDAY NIGHT COUPLES' BRIDGE
Facilitator: Barb Novak,  410-224-2528, barbnovak1@comcast.net.  Couples' Bridge meets the second Saturday of each month at 6:30 PM.

MONTHLY MEETINGS    See "Meeting Times" for monthly details.