BRANCH MEETING, MONDAY, OCTOBER 8
We will meet at Woods Memorial Presbyterian Church in Severna Park at 7 p.m. The guest speaker will be Wesley Queen, director of the Legacy Program at University of Maryland: it provides training to work in legislative offices in the Maryland General Assembly. See Public Policy for more details.
BOOK SALE NOVEMBER 8-11
This year our fall book sale is again located at the Festival at Pasadena, near BJ's, 8159-B Ritchie Hwy in Pasadena, Maryland. The public pre-sale, with an entrance fee of $25, runs from 8-10 a.m. on Thursday November 8.  After that, there is no entrance fee, and the sale ends at 3 p.m. on Sunday. Our first book sale lasted only a few hours in 1972. It has become a community event for Anne Arundel County over the years, and provides our support for scholarships for women and girls locally and nationally.
Click here for our book sale flyer. It gives the daily sale times. We wish to thank Fedder Management Corporation of Owings Mills, Maryland, for again providing the site for our sale and EZ Storage in Arnold for providing storage for our boxes of books during collections.
USED BOOK COLLECTIONS, SEPTEMBER 29 AND OCTOBER 20
Book sale collections continue, in preparation for our used book sale in early November. Our collections for this year run from 10 a.m. to 1 p.m. Sept 8 and 29, Oct 20. Collections are held in three locations:
Bank of America, Severna Park, at Jumpers Hole Rd and Benfield Rd
YMCA of Greater Annapolis, Arnold, on Ritchie Hwy
St. Philip's Episcopal Church, Annapolis, at Bestgate Rd and Medical Pkwy
Click here for our book collections flyer.
COCKTAIL AND CONVOS (C&C)
Our next Cocktails and Conversations (C&C) is Monday, Oct 1st from 4:30 – 6:30 p.m. at Park Tavern,  580 Ritchie Hwy, Severna Park.  Come one, come all, and bring a friend!
CANDIDATE FORUMS
We will be co-sponsoring four candidate forums with the League of Women Voters and the National Coalition of 100 Black Women: from 7-9 p.m. on October 9 for Districts 31A and 31B Senatorial and Delegate Candidates at Chesapeake Arts Center, 196 Hammond's Lane, Brooklyn Park; from 7 to 9 on October 10 for Districts 30A and  30B Senatorial and Delegate Candidates at Kneseth Israel, 1125 Spa Road, Annapolis; from 7 to 9 on October 11, for District 33 Senatorial and Delegate Candidates, at Woods Memorial Presbyterian Church, Severna Park; and from 7 to 9 on October 17, for District 32 Senatorial and Delegate Candidates, at Ark and Dove Presbyterian Church, 8424 Piney Orchard Pkwy, Odenton. All district candidates for the Maryland Senate or House of Delegates have been invited to participate.
Candidate Forums Flyer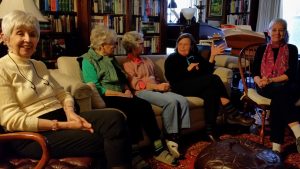 GREAT DECISIONS GROUP
Facilitator: Terry Sayler, 410-757-2446, saylerterry2@gmail.com.  The Great Decisions group  meets monthly the second Friday of the month at 9:45 a.m. to discuss current foreign policy issues.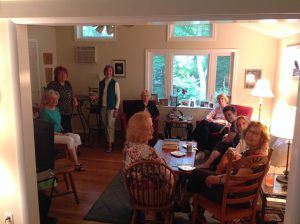 MORNING BOOK CLUB
Facilitator: Mary Wittner, 410-353-2172, mwittner@comcast.net.   The morning book group meets monthly the first Wednesday of the month at 10:30am.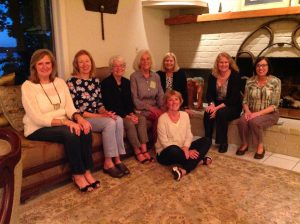 EVENING BOOK CLUB
Facilitator: Stacey Hilder, 410-647-7041, stacey861@verizon.net.  The evening book group meets monthly the first Wednesday of the month at 7:00 pm.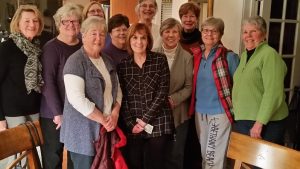 LADIES BRIDGE
Facilitator: Mary Ellen Gick, 410-544-5434, megick23@verizon.net. Ladies' Bridge meets the first and third Monday of each month  at 7:00 PM.

SATURDAY NIGHT COUPLES' BRIDGE
Facilitator: Barb Novak,  410-224-2528, barbnovak1@comcast.net.  Couples' Bridge meets the second Saturday of each month at 6:30 PM.

MONTHLY MEETINGS    See "Meeting Times" for monthly details.