BOOK COLLECTIONS

See menu link above for details on upcoming book donation appointment dates
BRANCH MEETING
October 12, 2020 (Monday) Business Meeting; 7pm – 8:30pm; via Zoom.
Come one! Come all! Bring yourself, your neighbors, your friends. We will commemorate the passing of the 19th Amendment giving women the right to vote with a special program by guest performer Mary Ann Jung. This successful local actress will introduce us to famed suffragist Elizabeth Cade Stanton through character voice and action. It promises to be a lively, theatrical zoom performance. http://www.historyaliveshows.com/elizabethcadystanton
If you are interested in learning about our group, please use our "Contact Us" link to request meeting details.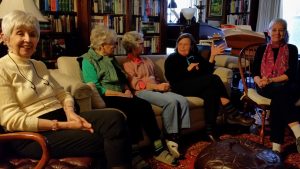 GREAT DECISIONS GROUP
Facilitator: Terry Sayler, 410-757-2446, saylerterry2@gmail.com.  The Great Decisions group  meets monthly the second Friday of the month at 9:45 a.m. to discuss current foreign policy issues.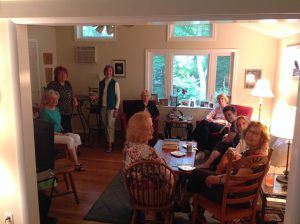 MORNING BOOK CLUB
Facilitator: Lynn Hapchuk hapchuk@verizon.net.   The morning book group meets monthly the first Wednesday of the month at 10:30am.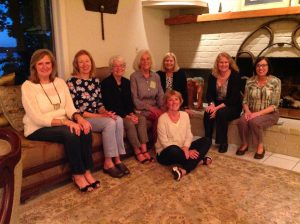 EVENING BOOK CLUB
Facilitator: Stacey Hilder, 410-647-7041, stacey861@verizon.net.  The evening book group meets monthly the first Wednesday of the month at 7:00 pm.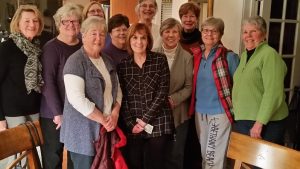 LADIES BRIDGE
Facilitator: Roxann King, roxann.king1@gmail.com. Ladies' Bridge meets the first and third Monday of each month  at 7:00 PM.

SATURDAY NIGHT COUPLES' BRIDGE
Facilitator: Barb Novak,  410-224-2528, barbnovak1@comcast.net.  Couples' Bridge meets the second Saturday of each month at 6:30 PM.

MONTHLY MEETINGS    See "Meeting Times" for monthly details.