December 7, 2019 was our most recent STEM Girls Count! program.  The next event will likely be scheduled for December 2022.
Here is an article on our first collaboration, in 2015, in the January 24, 2016 Capital Gazette
My Time: AAUW holds successful 'STEM Girls Count!' program
On Dec. 5, more than 70 excited fourth-grade girls and their accompanying adults attended a successful "STEM Girls Count!" program at Anne Arundel Community College. Girls representing 16 elementary schools throughout Anne Arundel County were selected to attend by their school principals and teachers. Eighteen elementary school teachers also participated in the event and will continue mentoring in STEM.
The girls participated in a variety of engaging hands-on activities that highlighted careers in science, technology, engineering and mathematics. The activities illustrated the fields of architecture, chemistry, electrical engineering, information technology, nutrition, microbiology, physical sciences and cybersecurity all led by women who have careers in these fields and work in Anne Arundel County. Parents and sponsors attended lively panel discussions on "how girls grow" and mentoring them on STEM subjects and careers.
The program was originated by the Anne Arundel County branch of the American Association of University Women and planned in collaboration with the Anne Arundel County Public Schools and Anne Arundel Community College, who also hosted the event.
"By starting at the elementary school level, the program hoped to provide key encouragement for girls to consider careers in which women are still significantly under represented, such as engineering and computer sciences," said Dr. Judith MacGregor, AAUW-AAC STEM coordinator for the event. AAUW's mission is advancing equity for women and girls through advocacy, education, philanthropy and research.
The event was sponsored by Outreach Process Partners, LLC, an Annapolis-based communications company, and by Rockwell Collins Inc., developer of aerospace and defense communication systems.
— Kathy Arias, AAUW/AACo Branch Publicity Chair

The Before:
December 5, 2015 at Anne Arundel Community College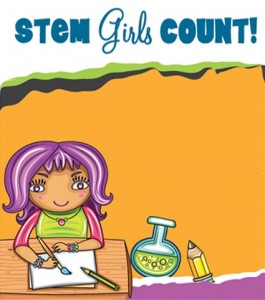 A morning of STEM activities for 4th grade Anne Arundel County girls – and an informative program for each girl's parent or significant adult…
Presented by AAUW Anne Arundel County in cooperation with Anne Arundel County Public Schools and Anne Arundel Community College.
Each girl will attend three of eight hands-on sessions in STEM fields, including computer technology, medical science, ecology, architecture, engineering, and others.  Each girl's significant adult will be provided with information, strategies and resources for supporting the girl's interest and preparedness for STEM.
Open to girls by invitation from their elementary schools in the Annapolis, Glen Burnie and Southern County feeder systems, as identified by Anne Arundel County Public Schools.
AAUW Anne Arundel County gratefully acknowledges Outreach Process Partners, LLC and Rockwell Collins, Inc for their funding support.
For more information contact: Dr. Judith A. MacGregor,  jamacgregor101@gmail.com or phone (410) 991-9115.